Our Story
At Drømme, we're on a mission to inspire new cocktail experiences that aren't defined by alcohol, for people who aren't defined by alcohol.
We're independent thinkers who don't follow. We enjoy iconic cocktail culture but not the effects of alcohol. The thing is, we were frustrated by our options. We couldn't find an elixir, nootropic, or even simple non-alcoholic beverage that wasn't uninspired and felt like an afterthought.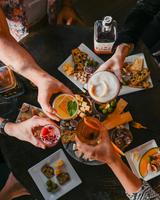 The
Vision
Our vision is of a world where zero proof expands the range of cocktails for everyone.
Where cocktail culture can be classic without getting hazy. Where the sophistication, taste, and elegance of having a drink isn't defined by its proof. Where the meaning of "drink" isn't in its effects—it's in its flavor profile. We're the spirited sibling to alcohol. Complex and bright-eyed, Drømme is a versatile flavor profile that adds levels of complexity and intrigue to your cocktails and nootropics drinks.
Drømme is small-batch crafted in San Diego, California so you can enjoy cocktail culture and unique sensations—but without the alcohol. Skål!
Shop All